Getting to know your Best Of In The Flesh readers, or "New Jersey isn't wearing any underwear"
I'm so excited about this
Best Of In The Flesh lineup,
not just because each reader is a friend and the overall lineup is so diverse and fun, but because they're each other there doing interesting things. Scroll down to the end for the meaning behind my New Jersey-themed subject line (Marie Lyn Bernard). Here's a few:
Jessica Cutler
gets interviewed
by the incomparable
Susie Bright,
in a fascinating discussion at 10 Zen Monkeys (bolding mine):
SB: I want to know what your own response is to that, Jessica. Because I've also been characterized as a full-time pro. And I have not run my life as a prostitution business. Not because I think it's wrong, but it's just not my life story.

So I find when I get that sort of attitude from someone, I get kind of
feisty.
In many respects, I identify with whores. If I'm around other whores, I feel like part of the crew. Because we'd have some things in common, in terms of our life experience, in the way people perceive us. And I can identify with a lot of their values – their sense of the reality of what really goes on with sex that people don't like to talk about. I wonder if you feel the same way, or if you just want to be as far as possible from anyone thinking you have anything to do with it.

JC: The latter is totally not the case. When I start to feel defensive, my attitude is sort of like, if people are calling me a whore, "Well, what's wrong with being a whore?" You know? I mean, I think girls who are sex workers — and men, all sex workers — they see another side of humanity and sexuality. People who've never worked in the sex industry — people who've never done it — don't know the half of it.

I've heard girls I know who escort say, "I think every woman should do this, because you find out a lot. You learn a lot about men." They tell me, "You don't even know. You wrote a book and even you don't know the half of it." And I'm like... "Yes, I want to know all about it..."

I really don't know what the hang-up is about that. I don't know why people really seem to dislike prostitutes. I don't understand that attitude at all.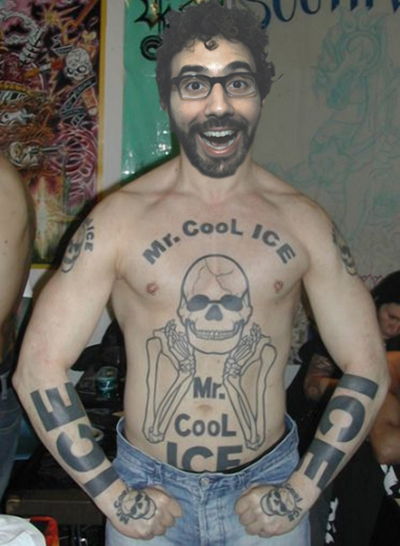 Todd Levin's tattoos - read more about them
Andrew Boyd
has a great piece in the latest issue of
Marie Claire
(October, with Jennifer Garner on the cover) on the paying for dates conundrum:
In the old days, paying on that firs date was a simple, nonverbal way to say, "I am interested in you. I am solvent. Tonight you are worth $58.45 plus tax and tip." Then the feminist revolution arrived, then the left-hand turn of postfeminism, followed by something about spelling "girl" with three R's⎯and now nobody knows what rules anybody else is playing by. If you pay, will she think you are a romantic or a chauvinist? If you let her pay, are you a deadbeat or a man at ease with powerful women? If you split, are you only half interested in her, or the kind of guy who'll do half the dishes and go down on her half the time?
Samara O'Shea looks at recent news about a letter from Mother Teresa
This week's
Time
magazine offers a comprehensive look into her secret life as one who often felt denied of the presence of God. In a September 1979 letter Teresa wrote to the Rev. Michael Van Deer Peet, "Jesus has a very special love for you. [But] as for me—the silence and the emptiness is so great—that I look and do not see,—Listen and do not hear."

It was Mother Teresa's wish that these letters be destroyed. In a move that some might consider disrespectful, the church overruled that wish—the letters now appear in a book entitled
Mother Teresa: Come By My Light
(Doubleday). Yet in the same way that a funeral is for the living, so these letters are now for the living. When I hear of the doubts and uncertainties of a soldier and sage like Mother Teresa I don't hold her in a lower regard, but it grants me solace to know that she, too, was human and had doubts as everyone does. The article purports that Teresa came to accept the doubt within her as part of Christ's suffering. Meaning she shared in his desolate hour of, "My God, My God why have you forsaken me?" I find it beyond admirable that her work never ceased in light of her private torment. She moved forward and continued to give all of her time to those who needed it the most.
Polly Frost
asks,
"Why can't Atlanta get it up for erotica?"
The ad copy I wrote for radio spots went in part like this:
"
Deep Inside
— Dangerously oversexed fiction by Polly Frost. Ron Jeremy says of
Deep Inside,
'If I directed some of these fantasies, I'd either be the world's greatest adult film director … or I'd be in jail. Enjoy this. I certainly did.'"

The ad played in Cleveland and in Washington, D.C., on alternative rock radio stations. Print ads ran all over the country. The only place I encountered a problem was the notoriously conservative
San Diego Reader,
which seemed upset by everything about my book.

So I decided to place the ad on a popular alt-rock station in Atlanta. The ad rep at the station was helpful and enthusiastic.
I was excited about getting the word out about
Deep Inside
to Atlanta!

Then … my ad rep e-mailed me that his station had vetoed the ad. They told him they found it unacceptable. He'd fought for it, he said, but he just couldn't get it past the station manager.

So I'm asking: What is it with Atlanta?

Aren't Southerners famous for — among other things, of course — their enjoyment of life and their sensual pleasure in houses, food, and drink? Then what's their problem with erotic entertainment?
In any case, I'm not stopping my efforts to bring my erotic fiction to Atlanta. I know Atlanta audiences will get a big kick out of my work, and that I'll enjoy meeting them, too.
And last but not least, what
Marie Lyn Bernard
plans to read
on September 20th:
Riese's Notes for "Fucking Around Part Two," as transcribed from her notebook,
where they were written in what appears to be an incredibly drunken scrawl:

-New Jersey isn't wearing underwear. I laugh: "You're not wearing underwear," and she doesn't laugh back, she just takes mine off, and we're close but not so close that I can't look down at her fingers -- chipped black nailpolish. Then I notice she's got each middle finger painted a smooth glossy un-chipped bright purple that reminds me of Bubble Tape, and I imagine her in traffic, flicking off drivers, I imagine her in photos, flicking off the camera, I imagine her inside me, flicking off. I want to laugh at this, too, but I learned my lesson about that already. New Jersey doesn't understand irony, which is why I'm confessing she's the best I've ever had outside of you, and outside of Chelsea.

She scratched me with those nails, but when you asked me about it the next day, I don't remember what I said, all I know is what I didn't say: I didn't say it was from New Jersey.

-I can't remember if I slept with Red Hook.

-Upper East Side didn't come. He left $100 cash on the nightstand. I don't know if he did that on purpose or not, maybe he was just emptying his pockets. Maybe he didn't know the difference between hookers and pretty girls.
Labels: lineup