November means True Sex Confessions
Because it's been so popular, I'm bringing True Sex Confessions back in November with a stellar lineup of confessors. You'll have the chance to anonymously confess too; I'll read audience confessions aloud in between readers!
IN THE FLESH EROTIC READING SERIES
TRUE SEX CONFESSIONS NIGHT
THURSDAY, NOVEMBER 15th at 8 PM
AT HAPPY ENDING LOUNGE, 302 BROOME STREET, NYC
(B/D to Grand, J/M/Z to Bowery, F to Delancey, http://www.happyendinglounge.com)
Admission: Free
Happy Ending Lounge: 212-334-9676
True Sex Confessions are back, with a wild mix of memoirists, sex bloggers, and comedy. Audience members will have the chance to anonymously share their own confessions as well. With
Anna David
(
Party Girl
),
Kimberlee Auerbach
(
The Devil, The Lovers & Me: My Life in Tarot
),
Selina Fire
(author of the blog The Real Sex in the City), nude model and memoirist
Isobella Jade
(Almost 5'4"), altporn pioneer
Lux Nightmare
(Boinkology.com), and comedian
Rachael Parenta
(Chicks and Giggles). Hosted by
Rachel Kramer Bussel
(
Best Sex Writing 2008, He's on Top, She's on Top
). Free candy and cupcakes will be served.
In the Flesh
is a monthly reading series hosted at the appropriately named Happy Ending Lounge, and features the city's best erotic writers sharing stories to get you hot and bothered, hosted and curated by acclaimed erotic writer and editor Rachel Kramer Bussel. From erotic poetry to down and dirty smut, these authors get naked on the page and will make you lust after them and their words. Since its debut in October 2005, In the Flesh has featured such authors as Laura Antoniou, Mo Beasley, Lily Burana, Jessica Cutler, Stephen Elliott, Valerie Frankel, Polly Frost, Gael Greene, Andy Horwitz, Debra Hyde, Maxim Jakubowski, Emily Scarlet Kramer of CAKE, Josh Kilmer-Purcell, Edith Layton, Logan Levkoff, Suzanne PortnoySofia Quintero, M.J. Rose, Lauren Sanders, Danyel Smith, Grant Stoddard, Cecilia Tan, Carol Taylor, Dana Vachon, Veronica Vera, Susan Wright, and many others. The series has gotten press attention from the
New York Times
's UrbanEye, Escape (Hong Kong), Flavorpill,
The L Magazine, New York
Magazine,
Philadelphia City Paper, Time Out New York,
Gothamist, Nerve.com and Wonkette, and has been praised by Dr. Ruth. This is not Amanda Stern's Happy Ending Reading Series.
Rachel Kramer Bussel
is Senior Editor at
Penthouse Variations,
conducts interviews for Gothamist.com and Mediabistro.com, and wrote the popular Lusty Lady column for
The Village Voice.
Her erotic stories have been published in over 100 anthologies, including
Best American Erotica 2004
and
2006,
and she's edited numerous erotica anthologies, most recently
Hide & Seek, Crossdressing, He's on Top: Erotic Stories of Male Dominance and Female Submission, She's on Top: Erotic Stories of Female Dominance and Male Submission,
and the non-fiction collection
Best Sex Writing 2008.
Rachel has also written for
AVN, Bust, Cosmo UK, Gothamist, Mediabistro, Metro, New York Post, Punk Planet, San Francisco Chronicle, Time Out New York
and
Velvetpark.
www.rachelkramerbussel.com
Kimberlee Auerbach
is a writer and storyteller who has performed her comedic monologues throughout New York City at venues such as The Original Improv, The Kraine Theater, and The Bitter End. Her one-woman show played to sold-out houses at the New York International Fringe Festival, and she has competed in several Moth GrandSLAM Championships. Her memoir,
The Devil, The Lovers & Me: My Life in Tarot,
was released by Dutton on August 2, 2007. Get more information or become her friend at www.myspace.com/kimberleeauerbach.
www.kimmiland.com
Anna David
has written celebrity cover stories, first-person essays, and reported pieces for
The New York Times, The LA Times, Vanity Fair, Playboy, Cosmo, Premiere, Parenting, Us Weekly, Razor, Redbook, Self, Details, Stuff, TV Guide, Women's Health, Teen Vogue, Variety, The New York Post, LA Confidential
and
Maxim,
among others. She's been quoted in newspapers and magazines across the country. In addition to answering viewers' sex and relationship questions on G4's Attack of the Show, Anna appears regularly on Today, Hannity & Colmes and Showbiz Tonight (CNN). She has also been featured on various other shows on Fox, NBC, MSNBC, ESPN, MTV News, CNN, E!, and VH1. An essay of hers appeared in this summer's Dutton anthology
Girls Who Like Boys Who Like Boys
and she produced the reality television pilot of her
Playboy
story "Sex and Two Cities" for TBS.
Party Girl,
which was released in May, 2007 from HarperCollins, is her first novel. The book is being translated into Russian and Italian and Sony Television has bought the television film rights. Anna's second novel,
Kept,
is in the process of being sold now.
www.annadavid.com
Selina Fire
is a lifelong New Yorker whose passion is sex. She is a writer, sex-positive activist and organizer. She writes for
Penthouse Forum,
and blogs her purely prurient
Sex in the City: The Real Version,
at
selinafire.blogspot.com.
Isobella Jade
started off as a muddy sneaker-wearing, upstate Cross Country runner and became a nude model by age nineteen, and then grabbed her bootstraps posing for magazines and ad campaigns such as Conde Nast,
Stuff
magazine,
Women's World,
Univision, MTV, Braun Razor and Marshalls, and then became an author regardless of grammar in her memoir
Almost 5'4": Confessions of an Unconventional Model,
all before she was 25 years old. She has been featured on Gawker, Media Bistro,
Mac Life
magazine, Page Six,
Advertising Age
and Yahoo!, and is a wizard of self promotion and yet she is always the girl next door with coffee stained jeans and wobbling in her highest heels no matter the weather, and always gives the homeless singers on the 2 train a dime or dollar when she has one.
www.isobelladreams.com
Lux Nightmare
has been obsessed with the Internet since 1994, obsessed with computers since 1987, and obsessed with sex since 1982. Career highlights include founding and running That Strange Girl (the first altporn site to feature both male and female models), interning at Nerve (back when it was cool), and keeping the masses educated about sex for the past ten years. She currently serves as editor of Boinkology.com, a blog about sex and culture.
www.boinkology.com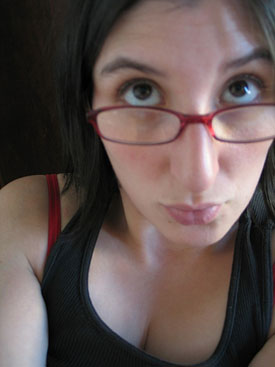 Rachael Parenta
recorded her cell phone voice mail message in the third person. Some people say that is crazy. However no one has complained about her bio being composed in the 3rd person. Apparently that is perfectly socially acceptable. A number of people have suggested that Ms. Parenta found the courage to challenge social norms at Emerson College where she earned a B.F.A. in Performing Arts. Others feel that's just the way stand-up comedians, such as Rachael, behave. Who knows? But, the third person seems to work for Rachael Parenta as she has performed her stand-up all over the country, contributed Gawker.com, had several plays produced, and appeared on the Richard Simmons Show in 1983.
rparenta.blogspot.com
Labels: lineup